"Links of the Day is back for now. I know back in April I said I'd be gone a week and it ended up being 5 months. After posting everyday for a year I needed a long break from all the crap I was reading. My physical and personal life was suffering and I needed to step back.
Well Obama is doing great and I'm counting on all the young people to get out and vote. The pollsters don't count them because their not allowed to call cell phones.
Our Government sucks! I know this is a week old but our media never tells us anything when another country calls us War Mongers, but it goes along with the article posted after it.
UN General Assembly Opens With a Denunciation of US Policies
By Walter Wisniewski
New York 17 September 2008
A new session of the United Nations General Assembly has opened in New York, with a sharp attack on the United States by the assembly's president, former Nicaraguan foreign minister Miguel d'Escoto Brockmann. VOA's Walter Wisniewski reports from our New York newscenter.
The past year's General Assembly of the United Nations has come to a close, and the new, 63rd session of the General Assembly is now formally open. World leaders will address the annual U.N. meeting next week, but the Assembly's incoming president caught diplomats' attention Tuesday with his opening remarks, a scathing attack on U.S. policies.
he General Assembly president, former Nicaraguan Foreign Minister Miguel d'Escoto Brockmann, mentioned the United States by name only a few times, but made it clear who his target was.
D'Escoto says it is "undeniable" that some members of the Security Council have "an addiction to war," and he says they are threatening international peace and security. In a scarcely veiled reference to President George W. Bush's administration, d'Escoto also said no nation has the right "to decide on its own which states are sponsors of terrorism, and which are not."
"By now, over 1.2 million people have died as a direct consequence of that aggression and occupation," d'Escoto said about the U.S.-led war in Iraq.
The 75-year-old diplomat, who is a Roman Catholic priest, told reporters later he intends to try to reform the U.N. to give the 192-member General Assembly a stronger role, compared to the Security Council, whose permanent members - the United States, Russia, China, France and Britain - have veto power over U.N. decisions.
D'Escoto says the world has changed since 1945, when the United Nations was founded, but the U.N. has not kept pace. He predicts "soul-searching" and frank debate at the General Assembly in the weeks and months to come.
"This will be an interesting year, and I will be making an appeal from the very depth of my heart and my experience," he said.
D'Escoto used spiritual terms in his opening speech, which he addressed to "my dear brothers and sisters" from all over the world. Asked about the significance of his dual role as General Assembly president and also a priest, he tried to deflect the comment with a joke.
"I'm also the oldest and the most decrepit [laughter], healthwise, and I know that. But will I, therefore, because I am a priest, pay particular attention to interfaith dialogue?" he asked. "That's already on the agenda. This is something that I have spoken about quite a bit with the secretary-general, and he is asking me to join him in this effort."
He was asked about his scheduled appearance at a forum next week together with Iran's President Mahmoud Ahmadinejad, who has called for Israel's destruction several times. D'Escoto says he does not feel it is inappropriate for him to take part.
"Obviously, if I am here talking about brotherhood and sisterhood, I don't want anyone to be wiped off the map - not even any individual, much less a state," he said.
He also pretended not to hear when another reporter asked whether he would condemn Russia's military action against Georgia last month constituted an act of aggression. D'Escoto, who has embraced leftist policies for decades, said he did feel that any act of aggression in the Caucasus region was committed by Georgia, against South Ossetia.
Heads of state and government will be streaming into New York over the next few days, before the General Assembly's traditional round of speeches by each leader begins next Tuesday.
link
....Bush and Dick like causing Chaos because war is very profitable.
September 22, 2008
US Hands Over Suitcase Nukes To Al Qaida In Pakistan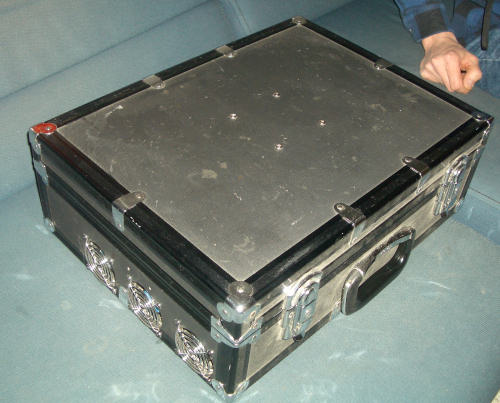 By:
Sorcha Faal, and as reported to her Western Subscribers
(Traducción al Español abajo)


Russian Military Analysts are reporting in the Kremlin today that the massive blast that caused 53 deaths at the Islamabad Marriott hotel in Pakistan was an operation conducted by India's foreign intelligence agency The Research and Analysis Wing [RAW] in an attempt to 'decapitate' Pakistan's entire leadership, including their President, Prime Minister and Military Chiefs all of whom, at 'the last minute,' changed the location of their planned meeting with the United States Chairman of the Joint Chiefs of Staff, Admiral Mike Mullen, who had arrived in their country unannounced.
These reports continue by stating that India had become 'alarmed' by the United States Defence Intelligence Organization [DIA] and Pakistan's Inter-Services Intelligence [ISI] plan to provide Al Qaida and Taliban terrorist forces with 37 suitcase nuclear weapons to be used against Western Nations in the coming month.
Not being understood by the American people is that Pakistan's Inter-Services Intelligence agents were the 'creators and controllers' of these terrorist organizations and are still active in their operations and attacks, and as we can read:
"Pakistan's intelligence agency is helping the Taliban to pursue an insurgency in Afghanistan that has seen a 50 percent hike in attacks in some areas this year, the NATO commander here told AFP.
The number of foreign fighters, including Europeans, is also increasing here while NATO's International Security Assistance Force (ISAF) still lacks the soldiers it needs, US General David D. McKiernan said in a weekend interview.
"There certainly is a level of ISI complicity in the militant areas in Pakistan and organisations such as the Taliban," the four-star general said, echoing allegations by Afghan President Hamid Karzai and others.
"I can't say to what level of leadership that goes to but there are indications of complicity on the part of ISI... to the extent that they are facilitating these militant groups that come out of the tribal areas in Pakistan."
To the exact transferring to Al Qaida and Taliban of these suitcase nuclear weapons we can read as reported by Pakistan's International News Service:
"Witnessed by many, including a PPP MNA and his friends, a US embassy truckload of steel boxes was unloaded and shifted inside the Marriott Hotel on the same night when Admiral Mike Mullen met Prime Minister Yousuf Raza Gilani and others in Islamabad.
Both the main gates (the entrance and the exit) of the hotel were closed while no one except the US Marines were either allowed to go near the truck or get the steel boxes unloaded or shift them inside the hotel. These steel boxes were not passed through the scanners installed at the entrance of the hotel lobby and were reportedly shifted to the fourth and fifth floors of the Marriott.
Besides several others, PPP MNA Mumtaz Alam Gilani and his two friends, Sajjad Chaudhry, a PPP leader, and one Bashir Nadeem, witnessed this mysterious activity to which no one other than the PPP MNA objected and protested.
A source present there told The News that after entertaining them with refreshments at the Nadia restaurant at midnight when Mumtaz Alam, along with his friends, was to leave the hotel, he found a white US embassy truck standing right in front of the hotel's main entrance.
Both the In-gate and the Out-gate of the hotel were closed while almost a dozen well-built US Marines in their usual fatigues were unloading the steel boxes from the truck. No one, including the hotel security men, was either allowed to go near the truck or touch the steel boxes, which were being shifted inside the hotel but without passing through the scanners.
Upon inquiry, one of the three PPP friends who was waiting for the main gates of the hotel to open to get his car in, was informed that the suspicious boxes were shifted to the fourth and fifth floors of the hotel. Mumtaz Alam was furious both at the US Marines and the hotel security not only for the delay caused to them but also for the security lapse he was witnessing."
The International News Service further reports that two of the US Marines involved in the transferring of these nuclear weapons were also killed:
"The US Department of Defence at Pentagon has confirmed the death of its two marines in Hotel Marriott blast in Islamabad. According to GEO News, the Pentagon said on Sunday its two marines succumbed to injuries in the blast. The soldiers were deployed in the US embassy in Islamabad, it said. Pentagon said the names of the US marines could not be revealed prior to informing families of the victims."
India's anger against both the United States and Pakistan was further raised by Pakistan's deadly bombing of the Indian Embassy in Afghanistan, and as we can read:
"According to U.S. intelligence sources, Pakistan's intelligence service provided support to pro-Taliban insurgents responsible for the July 7 bombing of the Indian Embassy in Kabul, which killed more than 40 people. Shocking though Pakistani involvement may seem to some, it is thoroughly predictable, given the worldview and interests of Pakistan's Directorate for Inter-Services Intelligence (ISI). Unless we address what's angering the ISI, we won't be able to stabilize Afghanistan or capture al-Qaeda leaders inside its borders."
Most disturbing about these reports is their stating that 'an unknown number' of these suitcase nuclear weapons survived the explosion and are now to be 'presumed to be in the hands of their intended recipients'.
These reports also state the nuclear materials contained in these suitcase bombs were obtained during what is termed in the United States as a 'Bent Spear' incident which occurred in 2007, and as we can read:
"The 2007 United States Air Force nuclear weapons incident occurred at Minot Air Force Base and Barksdale Air Force Base on August 29–30, 2007. Six AGM-129 ACM cruise missiles, each loaded with a W80-1 variable yield nuclear warhead, were mistakenly loaded on a United States Air Force (USAF) B-52H heavy bomber at Minot and transported to Barksdale.
The nuclear warheads in the missiles were supposed to have been removed before taking the missiles from their storage bunker. The missiles with the nuclear warheads were not reported missing and remained mounted to the aircraft at both Minot and Barksdale for a period of 36 hours. During this period, the warheads were not protected by the various mandatory security precautions required for nuclear weapons."
Also, and as we had reported on in our September 16th report US To Declare October 'Economic Emergency', Suspend Elections, the use of these suitcase nuclear weapons do, indeed, appear to be designed to deal the final death of the Western Nations political and economic structures in their continued efforts to shock their citizens senseless and allow them to institute the final set of laws needed to totally enslave these peoples forever.
http://www.whatdoesitmean.com/index1145.htm



OKAY NOW I AM WORRIED! This article is from Sept 8th and I do not recall the media telling us about this shit. Will we get to vote on November 4th or will Bush/GOP/Neo Cons declare martial law on us and install McCain as the new dictator of the United States?
If so will we the American people stand up on November 5th (like in V for Vendetta) and fight for our Freedom and our countries Constitution or will we go quietly along because we are afraid to fight and die? I hope for bravery but I think we Americans have gone soft and like a cur dog will tuck our tails and crawl back under the porch. It's not our fault we've been shocked and awed so much in the last 8 years that we will be frozen by fear.
We will either fight for freedom or die slaves.

Brigade homeland tours start Oct. 1
3rd Infantry's 1st BCT trains for a new dwell-time mission. Helping 'people at home' may become a permanent part of the active Army By Gina Cavallaro - Staff writer
Posted : Monday Sep 8, 2008 6:15:06 EDT
The 3rd Infantry Division's 1st Brigade Combat Team has spent 35 of the last 60 months in Iraq patrolling in full battle rattle, helping restore essential services and escorting supply convoys.
Now they're training for the same mission — with a twist — at home.
Beginning Oct. 1 for 12 months, the 1st BCT will be under the day-to-day control of U.S. Army North, the Army service component of Northern Command, as an on-call federal response force for natural or manmade emergencies and disasters, including terrorist attacks.
It is not the first time an active-duty unit has been tapped to help at home. In August 2005, for example, when Hurricane Katrina unleashed hell in Mississippi and Louisiana, several active-duty units were pulled from various posts and mobilized to those areas.
But this new mission marks the first time an active unit has been given a dedicated assignment to NorthCom, a joint command established in 2002 to provide command and control for federal homeland defense efforts and coordinate defense support of civil authorities.
After 1st BCT finishes its dwell-time mission, expectations are that another, as yet unnamed, active-duty brigade will take over and that the mission will be a permanent one.
"Right now, the response force requirement will be an enduring mission. How the [Defense Department] chooses to source that and whether or not they continue to assign them to NorthCom, that could change in the future," said Army Col. Louis Vogler, chief of NorthCom future operations. "Now, the plan is to assign a force every year."
The command is at Peterson Air Force Base in Colorado Springs, Colo., but the soldiers with 1st BCT, who returned in April after 15 months in Iraq, will operate out of their home post at Fort Stewart, Ga., where they'll be able to go to school, spend time with their families and train for their new homeland mission as well as the counterinsurgency mission in the war zones.
Stop-loss will not be in effect, so soldiers will be able to leave the Army or move to new assignments during the mission, and the operational tempo will be variable.
Don't look for any extra time off, though. The at-home mission does not take the place of scheduled combat-zone deployments and will take place during the so-called dwell time a unit gets to reset and regenerate after a deployment.
The 1st of the 3rd is still scheduled to deploy to either Iraq or Afghanistan in early 2010, which means the soldiers will have been home a minimum of 20 months by the time they ship out.
In the meantime, they'll learn new skills, use some of the ones they acquired in the war zone and more than likely will not be shot at while doing any of it.
They may be called upon to help with civil unrest and crowd control or to deal with potentially horrific scenarios such as massive poisoning and chaos in response to a chemical, biological, radiological, nuclear or high-yield explosive, or CBRNE, attack.
Training for homeland scenarios has already begun at Fort Stewart and includes specialty tasks such as knowing how to use the "jaws of life" to extract a person from a mangled vehicle; extra medical training for a CBRNE incident; and working with U.S. Forestry Service experts on how to go in with chainsaws and cut and clear trees to clear a road or area.
The 1st BCT's soldiers also will learn how to use "the first ever nonlethal package that the Army has fielded," 1st BCT commander Col. Roger Cloutier said, referring to crowd and traffic control equipment and nonlethal weapons designed to subdue unruly or dangerous individuals without killing them.
"It's a new modular package of nonlethal capabilities that they're fielding. They've been using pieces of it in Iraq, but this is the first time that these modules were consolidated and this package fielded, and because of this mission we're undertaking we were the first to get it."
The package includes equipment to stand up a hasty road block; spike strips for slowing, stopping or controlling traffic; shields and batons; and, beanbag bullets.
"I was the first guy in the brigade to get Tasered," said Cloutier, describing the experience as "your worst muscle cramp ever — times 10 throughout your whole body.
"I'm not a small guy, I weigh 230 pounds ... it put me on my knees in seconds."
The brigade will not change its name, but the force will be known for the next year as a CBRNE
Consequence Management Response Force
, or CCMRF (pronounced "sea-smurf").
"I can't think of a more noble mission than this," said Cloutier, who took command in July. "We've been all over the world during this time of conflict, but now our mission is to take care of citizens at home ... and depending on where an event occurred, you're going home to take care of your home town, your loved ones."
While soldiers' combat training is applicable, he said, some nuances don't apply.
"If we go in, we're going in to help American citizens on American soil, to save lives, provide critical life support, help clear debris, restore normalcy and support whatever local agencies need us to do, so it's kind of a different role," said Cloutier, who, as the division operations officer on the last rotation, learned of the homeland mission a few months ago while they were still in Iraq.
Some brigade elements will be on call around the clock, during which time they'll do their regular marksmanship, gunnery and other deployment training. That's because the unit will continue to train and reset for the next deployment, even as it serves in its CCMRF mission.
Should personnel be needed at an earthquake in California, for example, all or part of the brigade could be scrambled there, depending on the extent of the need and the specialties involved.
Other branches included
The active Army's new dwell-time mission is part of a NorthCom and DOD response package.
Active-duty soldiers will be part of a force that includes elements from other military branches and dedicated National Guard Weapons of Mass Destruction-Civil Support Teams.
A final mission rehearsal exercise is scheduled for mid-September at Fort Stewart and will be run by Joint Task Force Civil Support, a unit based out of Fort Monroe, Va., that will coordinate and evaluate the interservice event.
In addition to 1st BCT, other Army units will take part in the two-week training exercise, including elements of the 1st Medical Brigade out of Fort Hood, Texas, and the 82nd Combat Aviation Brigade from Fort Bragg, N.C.
There also will be Air Force engineer and medical units, the Marine Corps Chemical, Biological Initial Reaction Force, a Navy weather team and members of the Defense Logistics Agency and the Defense Threat Reduction Agency.
One of the things Vogler said they'll be looking at is communications capabilities between the services.
"It is a concern, and we're trying to check that and one of the ways we do that is by having these sorts of exercises. Leading up to this, we are going to rehearse and set up some of the communications systems to make sure we have interoperability," he said.
"I don't know what America's overall plan is — I just know that 24 hours a day, seven days a week, there are soldiers, sailors, airmen and Marines that are standing by to come and help if they're called," Cloutier said. "It makes me feel good as an American to know that my country has dedicated a force to come in and help the people at home."
http://www.armytimes.com/news/2008/09/army_homeland_090708w/
Well I'm sure there is alot more news out there today like the U.S. melt down of our economy but I warned you about that over a year ago.
But maybe you should know Bush is meeting with our lender China to talk about our Economy. Who would ever have imagined a U.S. president having to talk to China about our economy, but China has become our master since Bush has borrow billions from them to make the oil corps rich by invading Iraq to steal their oil.
before you read the next article go sign the petition to stop the give away of our tax money for Wall Street who has embezzled BILLIONS over the last 71/2 years.
NO BAIL OUT FOR WALL STREET!
http://www.votenobailout.org/
China's Hu, Bush talk on financial crisis
BEIJING, Sept 22 (Reuters) - Chinese President Hu Jintao and U.S. President George W. Bush spoke by telephone on Monday about the financial crisis engulfing Wall Street, China News Service reported.


The state-run news agency said the two leaders spoke at Bush's request.
"We have noticed that the United States has taken some important measures to stabilise the domestic financial market, and we hope these measures can achieve quick results so that economic and financial conditions in the United States will gradually improve and turn better," the news agency paraphrased Hu as saying.
The two spoke at the end of a weekend of intensive talks in Washington between Bush's administration and Congress to hammer out details of an unprecedented $700 billion bank bailout to forestall further financial market turmoil that risks plunging the economy into a deep recession.


Hu said the U.S. plan was in the interests of both the United States and China.
"It is also conducive to maintaining international financial market stability in order to promote the stable and healthy development of the world economy," China News Service paraphrased Hu as saying.


Seven Chinese banks have reported exposure of more than $700 million to failed investment bank Lehman Brothers. Lehman also guaranteed $500 million in structured notes held by a Chinese overseas investment fund.


But China's capital controls and the overwhelmingly domestic focus of its banks and insurers have largely insulated the country from the immediate fallout of the turmoil on Wall Street.


LOTS AT STAKE


However, China has a huge stake in the health of the U.S. financial system, not least because an estimated two-thirds of its $2 trillion in foreign exchange reserves is invested in dollar bonds.


Beijing is a big holder of U.S. treasuries and of debt issued by the two mortgage agencies, Fannie Mae and Freddie Mac, that the U.S. Treasury effectively nationalised this month.


So a ballooning of U.S. government debt that drove down bond prices or the value of the dollar would spell big losses for China.


Looked at in another way, the United States could remain heavily reliant on Beijing to buy the extra U.S. debt needed to fund the bailout.


The China News Service story did not say whether Hu and Bush discussed possible investments by Chinese institutions in U.S. financial firms desperate to replenish capital depleted by writedowns on mortgage loans and securities.
China Investment Corp, the country's $200 billion sovereign wealth fund, is in talks to increase its 9.9 percent stake in Morgan Stanley .


U.S. Treasury Secretary Henry Paulson and Federal Reserve Chairman Ben Bernanke hatched the unprecedented rescue plan amid concerns that other major banks could collapse and that credit markets were close to freezing, threatening the U.S. and global economy.


Under his plan, foreign banks with operations in the United States could also be eligible to sell illiquid residential and commercial mortgage-related assets to the Treasury.


Some U.S. lawmakers are demanding in return that foreign governments set up similar bailout programmes.


"We have a global financial system and we are talking very aggressively with other countries around the world, and encouraging them to do similar things, and I believe a number of them will," Paulson said on ABC television on Sunday. (Reporting by Zhou Xin; Writing by Alan Wheatley; Editing by Ken Wills)
http://www.guardian.co.uk/business/feedarticle/7816217
See you tomorrow for more happy news brought to you by our Fascist Government.